Concussions and PTSD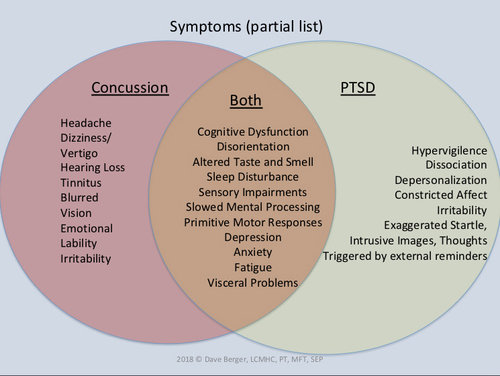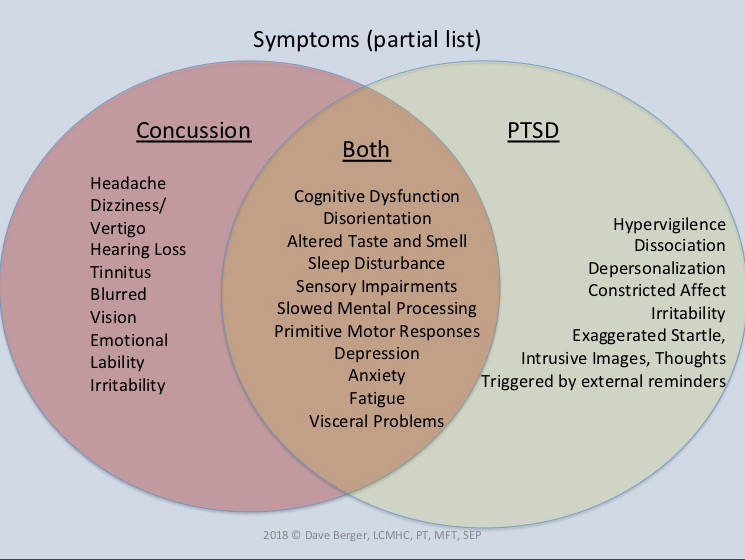 A concussion is the result of a sudden physical assault to the skull and brain from trauma experiences such as abuse, accidents and sports. The rapidity can inhibit or yield inefficient normal protective responses that might prevent the physical assault. The inhibition is often caused by a sudden shock state or tonic immobility that is also seen in, and results in PTSD. Symptoms of PTSD and Post Concussive Syndrome (PCS) include cognitive disturbances, behavioral changes and relational disruptions. These, in turn, can lead to occupational, educational and activity of daily living problems. These symptoms can result from or exacerbate already existing challenges including domestic violence, military culture, leisure activities and occupational requirements.
When confronted with a physical threat such as can occur in domestic violence, motor vehicle accidents, sports and military activities we can go into flight, fight or freeze. Freeze, or tonic immobility, can result in PTSD.
Understanding the anatomy of the cranium, including the brain and its protective coverings gives us a basis for understanding the physical effects of a concussion on the brain. Polyvagal Theory gives a basis for understanding what happens neurologically and behaviorally that contributes to PTSD. This is a major contributor to cognitive and behavioral disturbances.
Clients and patients who have concurrent PTSD and PCS may need a team of practitioners in mental health and physical/medical health care. There may be some overlap that supports team work and it is important all practitioners have some idea of what each other does. The re-integration of cognitive health and autonomic regulation helps a client return to work re-engage in leisure activities and be more resilient in relationships.
This workshop with focus on defining concussions and it's overlap with PTSD. In addition, participants will learn strategies and interventions to treat Post Concussive trauma and PTSD, therapeutic attunement, clinically and ethically appropriate use of touch, polyvagal theory and clinical application related to concussions, bodywork/touch as a relational process and much more. The workshop includes lecture, experiential exercises, demonstrations and practice time.
When: March 20-22, 2020 from 9:30a-5:30p
Where: Brentwood Recreation Complex
2505 South Brentwood
Brentwood, Missouri 63144
Cost: 590.00 (early bird discount before February, 1, 2020). Otherwise the registration fee is 630.00
CEUs: 18 CE's for mental health practitioners and body workers are $40 through R. Cassidy Seminars. A link to your CEs will be provided at the end or right after the training module. More information about CEUs is available at www.daveberger.net. For specific questions, please contact Rebecca Ehrke at [email protected]
Cancellation Policy:
If cancellation is 30 or more days prior to start date of a module or workshop there is a full refund less $50; 15-30 days prior to start date there will be 50% refund less $50. Less than 15 days prior to start date there is no refund. Payment can be by check, cash or online as specified on registration and information materials. Refunds need to be requested from Rebecca Ehrke by contacting her through this website or by email at [email protected]
To register for this event, please go to the contact page of this website or email Rebecca Ehrke at [email protected] Once registration is confirmed, you can pay online below or send check or cash to Rebecca Ehrke at 112 West Jefferson, Suite 130, Kirkwood, MO 63122.
Please note that space is limited and registration will close when the maximum capacity has been met.
Early Bird Registration Ticket (before February 1st, 2020) : 590.00 USD
General Registration Ticket (after February 1st, 2020): 630.00 USD